The Academy Award-winning actor was joined by newcomer Barkhad Abdi and director Paul Greengrass in Beverly Hills Monday night.
After kicking off the New York Film Festival with a standing ovation, the cast and crew of Captain Phillips arrived in Beverly Hills for a special screening at the Academy of Motion Picture Arts and Sciences on Monday night.
The gripping tale recounts the true story of Captain Richard Phillips (Tom Hanks), the commanding officer of the U.S. container ship Maersk Alabama, which was hijacked by a crew of Somali pirates in 2009.
PHOTOS: On Board With 'Captain Phillips': Exclusive Portraits of Tom Hanks and Barkhad Abdi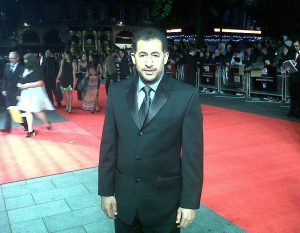 While introducing his film in the Samuel Goldwyn Theater, director Paul Greengrass thanked his team — including screenwriter Billy Ray and producers Scott Rudin, Dana Brunetti and Michael De Luca — before presenting Somali newcomers Barkhad Abdi, who stars opposite Hanks as the Somali pirate captain Muse, Faysal Ahmed and Mahat M. Ali. Not long after, Greengrass welcomed Hanks to the stage and introduced the real-life Phillips on the big screen via Skype.
"Well, I hope everyone there enjoys it. You did a really good job," the captain told Greengrass, adding with a laugh: "Tom also did a good job, too."
Hanks spoke to The Hollywood Reporter about visiting Phillips in Vermont, where he picked the captain's brain about his life as a merchant mariner.
"What he told me — as far as business goes of being a captain on the ship — is very detailed in this [film]. There's paperwork, pressure, details that we would never begin to think about," Hanks said. Asked what surprised him most about meeting the man, Hanks replied: "I would have to say how comfortable he was in his own skin."
THR COVER: Inside the Intense 'Captain Phillips' Shoot: Tom Hanks' 'Mental Stress,' His Co-Star's Horrific Backstory and a 'Scary' First Day on Set
After completing the film, Hanks shared that his knowledge of Somalia was no longer based on what he read in the media, but rather, "what I learned from the guys like Barkhad and Faysal. Outside the language barrier and the fact that they probably weight 80 pounds less than I do, their concerns are my concerns."
As far as what Hanks' co-stars have taught him? The Saving Mr. Banks actor said: "How great the United States of America is. How beautiful it is to live in Minneapolis, and the tight-knit aspect of the Somali culture and population there. It's good to be part of a group that establishes you as far as heritage, common bond of language — but they also love being Americans."
Months before shooting began in Malta (with subsequent filming in the U.K., Morocco and Norfolk, Va.), casting director Francine Maisler searched the country for Somalis, particularly in and around Minneapolis, a hub for East African immigrants. More than 700 locals were interviewed at a community center — among them, Abdi, who had heard about the audition while watching the news.
Abdi, who had never acted before landing the role of the pirate captain, revealed that his first scene with Hanks was the most difficult to shoot.
"I knew the whole weight was on me. I didn't sleep much that first night," he said. "That scene was hard, but it came out great. That 'I'm the captain' line came out of nowhere, and I just let go finally. I became the character."
ANALYSIS: Why Tom Hanks' 'Captain Phillips' Is Opening the New York Film Fest
Greengrass, who purposely separated the Somalis from Hanks until it was time to shoot, wanted to "add an edge to that first confrontation."
"I think it made it easier for those young Somali actors because in the end, they had to come through that door and be ferocious. I think it really worked," said the 58-year-old director.
Brunetti praised Greengrass for his treatment of the Somalis, noting that he was "very careful and cognizant of showing that they are human beings." Added Brunetti: "I think Paul rode that line, and what happens at the end when they do get shot, you're glad that the captain is rescued, but you still have a bit of sadness that these young guys lost their lives."
As for Greengrass' decision to retell this thrilling story, he noted, "I think the world out there is full of exciting stories, and if you can catch one of those stories with strong characters — in a world that people want to visit — then you're halfway to a good movie."
Captain Phillips opens in theaters nationwide on Oct. 11.